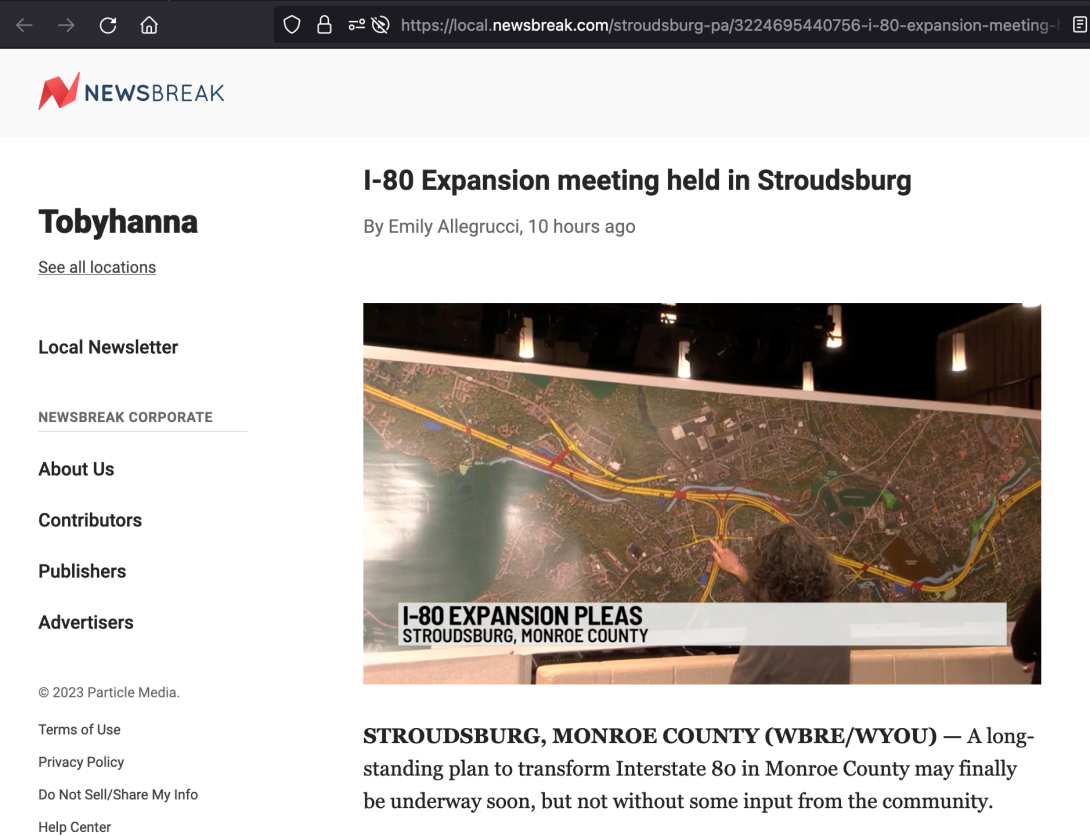 via Newsbreak:
STROUDSBURG, MONROE COUNTY (WBRE/WYOU) — A long-standing plan to transform Interstate 80 in Monroe County may finally be underway soon, but not without some input from the community.
28/22 News Reporter Emily Allegrucci was at an emotional town hall meeting in Stroudsburg Thursday evening where some big concerns were brought front and center.
PennDOT's reconstruction plan for I-80 was discussed and dozens of members of the community voiced their opinions and hoped to make a change.
The PennDOT believes its reconstruction plan will improve I-80s' safety and traffic flow, but some lawmakers and residents say the project would cause more headaches than it's worth.
"We're an historical district, they're ruining livelihoods, downtown businesses, and we are going to go under if this project goes through," said Representative Tarah Probst.
A major part of the plan is adding a three-mile stretch of interstate through the borough of Stroudsburg, something residents say is not necessary.
"The last thing we need is three lanes in each direction. I mean that money could go elsewhere easily. We don't need it, we don't want it," said Stroudsburg resident Bob Felker.
Those who attended the meeting signed petitions to scale down PennDOT's project and took to the mic to voice their concerns.
"We need to stand up people. We can't take this anymore. We're not cows to be milked for our taxes," one resident said during public comment.
Many say the traffic backups from construction would be bad, but being late for work isn't the only issue. They say it could pose a big problem in an emergency.
"It goes beyond worrying about sitting on traffic on 80. We have to worry about how we're going to get help if we need it," said Stroudsburg emergency management coordinator Mehmet Barzev.
"The Dreer Avenue exit services all of the west side of our town, as well as Stroud Township, that's gonna create five to 12 minutes extra time to the nearest hospital," Probst explained.
The plan would remove two exits into downtown Stroudsburg which some believe would hurt the local economy.
"I'm fearful that this is going to devastate the town that we love, that I could walk to. And now it's just gonna be a ghost town," said Cindy Blake of Stroudsburg.
The community says they're not against change, but rather looking for change that will benefit Stroudsburg.
"I hope they come up with a solution, you know something that works for everybody and avoid what sounds like it's gonna be a long and destructive and not really productive plan," said Stroudsburg resident Paul Rostock.
Representative Probst said she did invite PennDOT to the town hall meeting, but no one from the department was in attendance.
Source:
https://local.newsbreak.com/stroudsburg-pa/3224695440756-i-80-expansion-meeting-held-in-stroudsburg?s=dmg_local_email_bucket_8.web2_fromweb