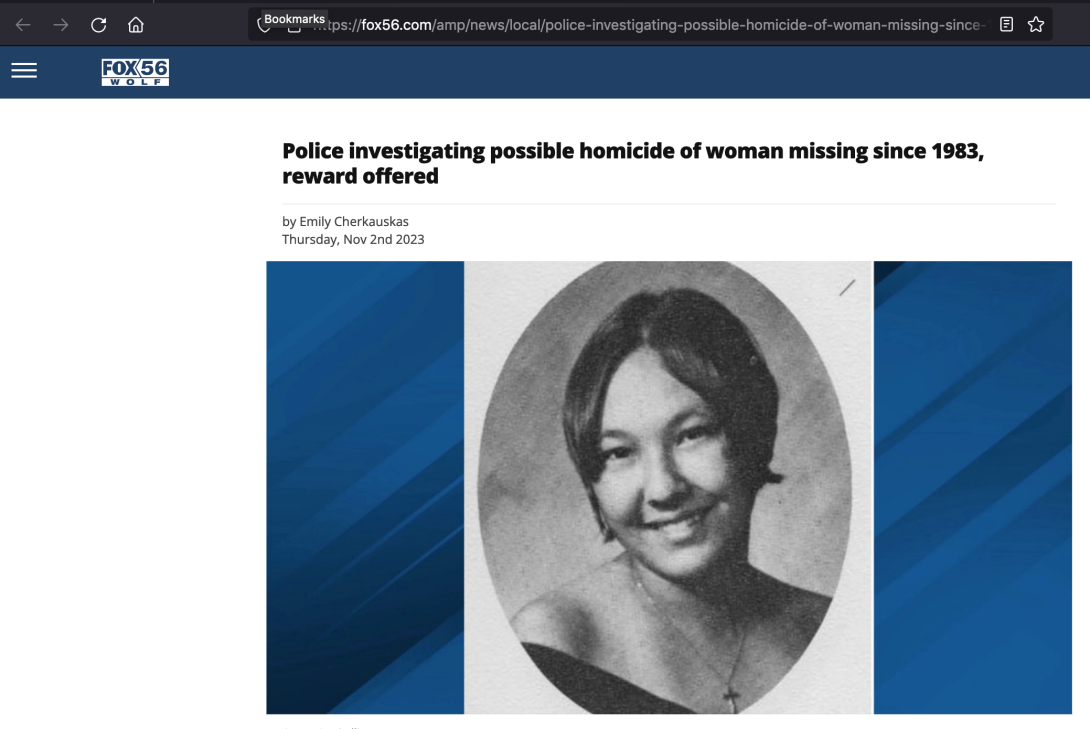 by Emily Cherkauskas
Thursday, Nov 2nd 2023
Susan Cerritelli
MONROE CO. (WOLF) —
Pennsylvania State Police are investigating the disappearance of a woman who has not been seen since 1983.
ADVERTISEMENT
26-year-old Susan Cerritelli was last seen in her Long Pond home on May 11, 1983. She is believed to be the victim of homicide.
Her husband, Andrew Cesar Cerritelli, said he had left their home at noon to go to Philadelphia, and when he returned at 6 p.m., she was gone, troopers said.
Andrew reported her missing, and she was never heard from again.
Police said all of Susan's family had lived out of state at the time of her disappearance--but it was uncharacteristic of her not to contact them, the family said, and they believed foul play was involved in her case.
Authorities stated Andrew was known as "a controlling, jealous husband with a substantial criminal record, mostly for violent offenses, and he had bragged about being an enforcer for the mafia."
Andrew was the prime suspect in the investigation, but charges were never fled against him. He remarried after her disappearance, and continued having brushes with the law, police said.
In 1998, according to police, a jail inmate told authorities that Andrew admitted to strangling Susan, dismembering her body and dumping it in the ocean off the coast of Seaside Heights, New Jersey.
Andrew also allegedly told a girlfriend he had dumped Susan's remains down a hole in the near-uninhabited town of Centralia, Columbia County. The girlfriend also said that Andrew threatened to put her in the same hole if she was ever unfaithful to him, police said.
Authorities are unable to search Centralia because of the miles-long underground coal mine fire, which has been burning since 1962 and poisoned the air above ground with coal gas fumes.
Andrew died from a drug overdose in February 2007, and the case is considered cold.
Susan is described as having black hair and brown eyes with a height of 5'1" and a weight of 100 pounds.
ADVERTISEMENT
Anyone with information is asked to contact the Pennsylvania State Police at 570-459-3890 or leave a tip with the Pennsylvania Crime Stoppers online. A $5,000 reward is being offered.